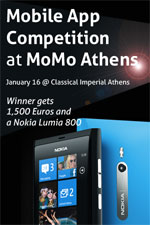 Distinction of the SBOING navigator, sbNavi ™, as one of the top 7 apps in the contest "NOKIA Mobile App Competition", organized by Mobile Monday Athens, (http://www.momoath.com/nokia-mobile-app-competition) 22 mobile applications (or ideas at an early stage of implementation) were submitted and the final presentation (pitching) of the top 7 was held in Athens, 16/1/2012, in front of a panel of judges from NOKIA, Microsoft and Venture Capital representatives.
SBOING qualified to the best 150-300 worldwide (from ~700 submitted) innovative ideas and corresponding business plans, in the international competition MassChallenge 2011 Competition (Boston, Mass., USA, www.masschallenge.org), and our group was invited to participate in the second round to qualify for the 150 best, [May 2011].
SBOING excelled (top 20) in the contest for Innovation & Entrepreneurship "Greece Innovates", co-organized by SEV (Industry Association) and EFG-Eurobank (http://kainotomeis.gr), [2010-2011].
The concept and implementation of a (h/w) traffic data collection system based on wireless network technology, static or mobile, sensors with GPS (ahWSN, VANETs), a collaboration between SBOING and the Hellenic Open University and ranked in the top five of the "Arduino Contest 2011" (http://www.cooking-hacks.com/index.php/let-s-cook/community-hacks) organized by the company Libelium, [May 2011].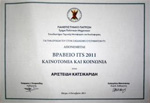 SBOING competed and qualified for the final phase of the competition MobIP 2012 (Pan European Partnership and Investment for Mobile Services), [Thessaloniki, 1/6/2012], http://www.e-unlimited.com/events/view.aspx?events_pages_id=1431.
The innovative idea "SBOING" ranked 4th for the European Award "GNSS Living Lab Prize 2012", 2nd for the Regional Challenge prize and 4th for the "Audience Award" of the 9th European Satellite Navigation Competition, ESNC-2012, http://www.galileo-masters.eu). Of 406 proposals submitted, the Audience Award shortlisted 207, of which 3 Greek (2by SBOING: "SBOING" and "WiSeNDA"). [11/2012].
---